Kris Leach, Tight End, Kent State
Height:
6054
Weight:
252 lbs.
Hand:
900
Arm:
3328
40-yard dash:
4.90
10-Yard Split:
1.66
Bench:
19 reps
3-Cone:
7.39
Shuttle:
4.45
Vertical:
33"
Broad:
9' 04"
R.A.S.:
6.26
​
19 games started
Careers stats
18 receptions for 207 yards (11.5 ypr) and 3 touchdowns
Scouting Report from Pro Football Network
Strengths: Large blocking tight end with average athleticism. Bends his knees, blocks with proper pad level, and gets after assignments. Gets to the second level and redirects to linebackers, knocking them from their angles of attack. Adjusts to the errant throw and makes the reception in stride, then keeps the play in bounds.
Weaknesses: Plays to his 40 time and displays minimal speed. Totaled just 16 receptions in the past three seasons.
Overall: Leach is solely a blocking TE, who may be best trying to add 30 pounds to his frame and moving to guard.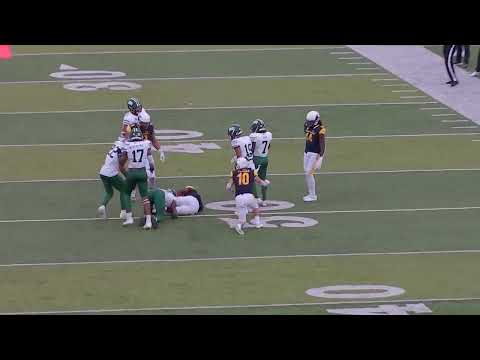 ​