Warren Ericson, Center / Guard, Georgia
Height:
6041
Weight:
305
Hand:
968
Arm:
3238
40-yard dash:
did not participate
10-Yard Split:
N/A
Bench:
23 reps
3-Cone:
8.21
Shuttle:
4.75
Vertical:
24"
Broad:
8' 00"
R.A.S.:
3.08
Age:
24.3 years old
15 Game Starter
​
Prospect Profile from Damian Parson of The Draft Network
Pros:
Versatility is a good way to describe Warren Erickson. He has spent time at both RG and C. He has a boxy frame that has solid lateral agility. He displays solid play strength in the run game to create lanes for his backs. He can work vertically and laterally in the run game—signs of scheme versatility. He flashes good football intelligence. He finds work if left uncovered. I like his grip and hand strength to turn opponents once he is latched. He's an effective puller to lead his running back to daylight. A really competitive blocker in both run and pass game, Ericson wants to finish blocks once he is engaged.
Cons:
Warren Ericson struggled with balance and lunging at the point of attack. Quicker IDL were able to win reps early as a result of this issue. Along with lunging, Ericson dips his head quite a bit when making contact with opponents. You cannot hit what you cannot see. Stunts and twists can put him in conflict with hip fluidity and change of direction. Engaging with quickness is important for his success rate. His lack of arm length creates issues for him to protect his chest—powerful DL can establish leverage and drive him into the QB's lap. His frame can use filling out, adding more strength from top to bottom to help anchor.
​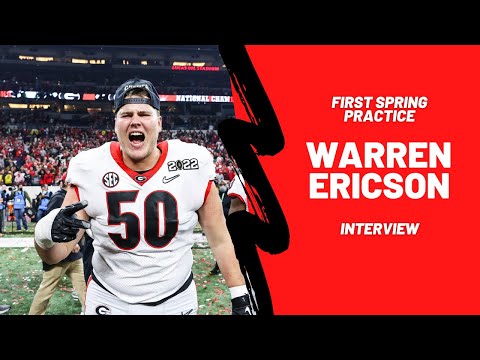 ​