Seth Benson, Linebacker, Iowa
Height:
5117
Weight:
231
Hand:
938
Arm:
3148
40-yard dash:
4.76
10-Yard Split:
1.66
Bench:
17 reps
3-Cone:
7.19
Shuttle:
4.38
Vertical:
32"
Broad:
9' 06"
R.A.S.:
3.29
Age:
23.8 years old
​
34 career starts
254 career tackles
2022 Second Team All-Big Ten
4-year Academic All-Big Ten
Prospect Summary from Lance Zierlein of NFL.com
​Benson was the South Dakota Gatorade Player of the Year as a senior at Washington High School. He played in three games (no statistics) in his 2018 redshirt season and then in all 13 games off the bench in 2019 (11 tackles). Benson missed the 2020 opener due to injury but started the final seven contests (47 tackles, three for loss with two sacks). He started all 14 games in 2021, racking up 105 tackles (5.5 for loss with two sacks, one interception, three pass breakups). He was voted second-team All-Big Ten in 2022 (95 tackles, 4.5 for loss with one sack, one interception in 13 starts).
Benson has plenty of play strength and toughness. He has no problem handling things when the action stays between the tackles. However, his lack of fluidity and pursuit burst are likely to limit his overall effectiveness as a pro. Benson can play on special teams but doesn't have the tools needed to thrive on third downs. While there is no doubting his ability to take on blocks, teams might see his limited playmaking range as a non-starter.
​​​​​​Strengths
✔ Team leader.
✔ Above-average play strength and overall toughness.
✔ Strikes with heavy hands when taking on the block.
✔ Stays square to the action and covers up his gaps.
✔ Scrapes to the play with leverage and hits with a thud.
✔ Has core special teams experience and potential.
​Weaknesses
✔ Lacks the burst and agility to make a living flowing downhill.
✔ Moves with heavy feet and below-average range in pursuit.
✔ Could struggle as open-field tackler at the next level.
✔ Face-up rusher who doesn't have much impact as blitzer.
✔ Slow in coverage transitions, limiting effectiveness.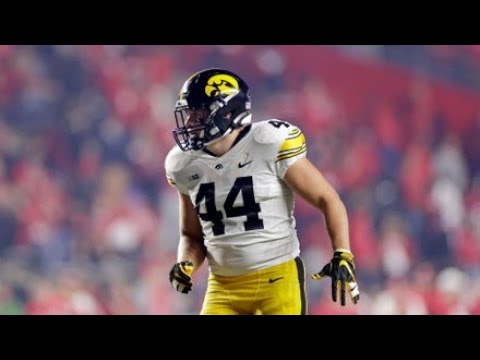 ​