Thomas Incoom, Edge Rusher, Central Michigan
Height:
6020
Weight:
262 ✅
Hand:
868
Arm:
3328 ✅
40-yard dash:
4.66 ✅
10-Yard Split:
1.56 ✅
Bench:
23 reps
3-Cone:
7.10 ✅
Shuttle:
4.33 ✅
Vertical:
30.5"
Broad:
9' 10"
R.A.S.:
8.48 ✅
Age:
24.19 years old
​
25 career starts
28.5 career sacks 👀
44.5 career tackles for loss 👀
2022 First Team All-MAC
2019 First Team All-GSC (Valdosta State)
Prospect Summary from Dane Brugler of The Athletic
BACKGROUND: Thomas Incoom was born and raised in the West African country of Ghana. When he was age 11, his family moved to the United States and settled in Stone Mountain (20 miles northeast of Atlanta). Incoom enrolled at Stone Mountain High School, where he played soccer (the only sport he was familiar with) as a freshman and sophomore. He never played a down of football until he joined the team as a sophomore as the kicker and punter. He transitioned to football full-time as a junior and led Kalb County in receptions (43) and scored six touchdowns as a tight end for a team that struggled to win games (finished 0-10). He earned second team All-County honors as a senior in 2016, posting 39 catches for 678 yards and five touchdowns. Incoom started dabbling on defense as a senior, seeing time at safety and defensive end.
A two-star recruit, Incoom was the No. 123 tight end in the 2017 recruiting class and the No. 301 recruit in Georgia. Playing for a high school program that won just one game over his junior and senior seasons, he went overlooked throughout the process. Incoom took visits to Georgia State and Troy but didn't have any Division I scholarship offers out of high school. He signed with Division II Valdosta State as a tight end before transitioning to the defensive line during his redshirt season. After four years with the Blazers' program, Incoom hoped to move up to the FBS and transferred to Central Michigan. He took advantage of the extra year of eligibility because of the COVID pandemic and returned to Central Michigan for his sixth college season in 2022. Incoom accepted his invitation to the 2023 Senior Bowl.
STRENGTHS: Owns a workable frame with decent length and a stout upper half ... threatens the pocket with his quickness off the ball and above-average arc/pursuit speed ... presses his foot in the ground at the top of his rush to forcefully flatten ... effective club-rip move to power through the outside shoulder of blockers ... rushes with heavy hands and naturally converts his speed to power ... displays violent push-pull action ... strong edge setter in the run game and also able to stalk and finish cutback runners ... unwise to leave him unblocked from the backside ... physical, reliable tackler at contact ... competes with an underdog mentality and feeds off the doubters ... outstanding senior-year production.
WEAKNESSES: A tad light in his lower body (upper body much more impressive) ... pass-rush patching is underdeveloped, and his initial plan can be too easily delayed ... counter measures currently lack variety or precision ... hands don't have the same pop after the tackle makes first meaningful contact ... late to regroup when blockers knock him off his rush path ... doesn't offer much experience dropping in space ... only one season as a full-time starter at the Division I level ... will be 24 on draft weekend.
SUMMARY: A one-year starter at Central Michigan, Incoom lined up as an edge rusher in defensive coordinator Robb Akey's 4-2-5 base. A high school tight end who was new to football, he moved to pass rusher at Valdosta State and blossomed after transferring to Central Michigan, finishing as one of only four FBS players with at least 11.0 sacks and 18.0 tackles for loss in 2022. Despite seeing a lot of chips and extra attention, Incoom wins with the initial movements to get going quickly, attacking with a balanced blend of quickness, power and effort. However, he isn't overly creative and tends to rely more on his motor than instincts to break down blockers and get home. Overall, Incoom isn't known for his crafty counter measures, but he has the upfield athleticism and edge-setting presence to provide an NFL team value as both a pass rusher and run defender. His game is reminiscent of Dorance Armstrong, a useful edge rusher in an NFL rotation.
GRADE: 4th-5th Round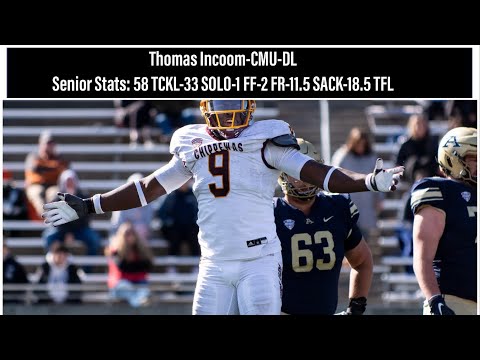 ​